Hanno® Flashing Tape DUO Easy 240
Flashing Tapes
Hanno® Flashing Tape DUO Easy 240 was designed primarily for curtain window elements of the type often found in low-energy construction.
Hanno® Flashing Tape DUO Easy+ 240 has an additional adhesive strip on the opposite side and therefore replaces conventional film tapes for many applications in building.
The film tapes are moisture variable, which makes them suitable for application inside and outside. The sd value of both tapes is between 0.48 < sd < 12.0 m. The high level of insensitivity to driving rain of > 1,050 Pa prevents the ingress of moisture on the side exposed to weather. Inside, the important air-tightness of an ≤ 0.1 is obtained. The film tapes can also be used during the cold season at temperatures as low as -10 °C.
Hanno® Duo Easy 240
The Hanno-Flashing Tape DUO Easy tape range offers a fully surfaced adhesive layer, which does not require an additional film adhesive for suitable substrate.
Moisture-depending sd value
Suitable for rehabilitation and new construction
High adhesive strength of the mounting strip on all kinds of window frames and different types of masonry base.
Can be installed at low temperature
Can be plastered and painted over
Stretchable
Technical data:
Variable moisture – optimum moisture management in the joint
sd value 0.48 ≤ sd ≤ 12.0 m
Resilient for optimum installation
Installation without additional film adhesive
Outstanding resistance to driving rain >1050 Pa
And air-tightness an ≤ 0.1 m³/(h∙m∙(daPa)2/3)
Can be plastered/rendered over
All adhesive layers covered by slit film
Temperature compatibility -40 °C to +80 °C
Processing temperature -10 °C* to +30 °C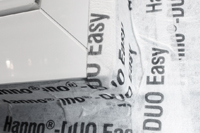 Click Hanno Duo Easy Brochure for more information.
Click on application instructions for Hanno DuoEasy240 flashing tapes.
Click on application instructions for Hanno DuoEasy+240 flashing tapes.
Click Hanno Duo Easy Technical Data for technical information on Hanno Duo Easy tapes.